Fansite:Insimenator
From SimsWiki
InSIMenator (or InSIM, as it's known) is a free The Sims 2 fansite is the home of The InSIMenator, and houses a bustling social element where you can make some new friends of fellow sims players.
Details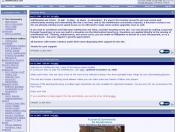 InSIM is home to over 400,000 members. It requires users to sign up prior to downloading content and does not allow users to remove their registrations, so the number of active users is likely inflated. The site remains free for now, although the current owner has considered mandatory donations and has expressed his intention to receive a return on his investment. InSIM is supported through banner ads and the generosity of members who choose to monetarily support the Sims 2 modding community.
There is some evidence that the previous owners kept a majority of the funds generated by the site for their own personal use, while assuring the community that all funds were used to support the site. The current owner is interested in selling the site back to the community and leaving; he would like to recover all of his costs, including the price that he paid to the previous owners for the site.
Because of issues with the recent change in ownership, many people are in the process of deleting their creations and leaving the site. There is a project underway to transfer the contents of the site to a new site run by the community. This site is temporarily available at http://isa.moreawesomethanyou.com/
There are active forums on the site, divided in different sections. These include:
The Community contains the Main Forums, Sims 2 Discussion, Sims 2 Help, Community Downloads and Sims 2 Contests.
Contributor Gallery includes InSIMenator Downloads, InSIMenator Support, Eric's Endeavors, Kathy's Korner, Kavar's Kaleidoscope, Marvine's & Beosboxboy's Projects, Sgoobysnacks Mystery Machine, Wirelessguy's Endeavors, SDSims Stuff, Persephone's Palace, Dave's Digs, Warlokk's Tower, XPTL297 Xtreme Creations, ReginaS's Sims, Ellu's Elegance, Squinge's Mods, KSK's SimMen Stuff, Violet's Cult, Amun-RA's, Plickas Plickarific, Olemantikers Shopping Center, Bridhntr's Boutique, GeneralZoi's Barracks, Dare's Designs, SynapticSim's Lair, Lieenschonheit's Horros, Gensis.Wallem's Area, Frezia's Atelier and Ranger's Ramblings..
Contact Zone will give you Staff and Contact Us.
Community
InSIM came into existance in May of 2005.
Administrators
InSIM was run by Kathy and Eric until late November 2008. At that time, it was sold to the current owner: Walt Thiessen. Walt is a businessman who wants to make a profit from the site; he has never played the Sims. Other administrators are beosboxboy, Kavar and kere, and there is a staff of moderators as well.
History
Opened 9 May 2005
Sold 26 Nov 2008
External links