Game Help:Sims 3 Adventures/Learning from the Master's Palm
From SimsWiki
Learning from the Master's Palm
This is an adventure your sims can do in China.
Adventure Details
In-Game Description
"Much like a child who has taken its first steps, you have entered a new phase in life. But also like the child you have so far to go. An acquaintance of mine, (Name), is a well-respected master of Martial Arts. There is much you can learn from (Name). Spar with (Name) 2 times, then return to tell me of what you learned."
Location
The sim you need to spar with will vary. For a fresh copy of China, this is likely Ai Pei. The sim you report back to will vary as well.
Difficulty
Medium. You will need to have some Martial Arts skill first before you can Spar with other sims. Go to any of the martial arts lots in Shang Simla and practice with the training dummy until your sim gains a level in Martial Arts skill.
Reward
The reward for this adventure is:
Nothing - leads to the next adventure only.
Adventure Chain
Learning from the Master's Palm
Walkthrough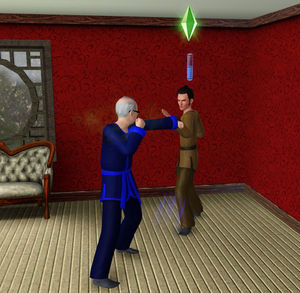 1.
Spar:
Find the sim named in the adventure's text, and Spar with them. You don't need to win, just compete.

2. Spar Again: Spar with that same sim a second time. When you're told whether you won or lost, you'll get the popup for the next part of the adventure.

Related Pages