Content List:Historical and Ethnic/Medieval and Renaissance
From SimsWiki
Medieval/Renaissance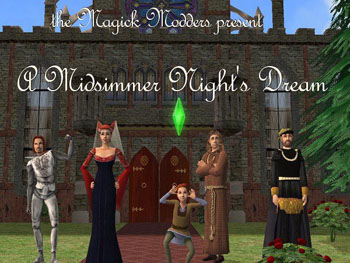 This is content, generally European in nature, from the periods circa 1200-1600 AD. For more content that may be of use to you in building a medieval theme, see some of the objects listed at Historical: Victorian and Regency and Fantasy.
Body Shop Content
Accessories
More tiaras and crowns can be found at Body Shop Content: Tiaras and Crowns.
Clothing
Sites and Users
These are sites or users that offer lots and lots of clothing in this theme - too much to list individual items.
Female
Male
Both
Hair
Makeup
Neighborhood Terrain and Neighborhood Objects
CAS Screens
Objects
Bathroom
Bedroom
Dining Room
Kitchen
Living Room
Nursery
Miscellaneous
Assorted Rooms: Sims Design Avenue (Bric Brac - Medieval)
Banners/Pennants as Floor Decoration: Meshkiste
Banners/Pennants: Marina's Sims
Banner and Tapestry Pack (including two and three story banners): Lethe_s at MTS
Bayeaux Tapestry: myboo at MTS
Blacksmith Set: Buntah at Linda's Computer Stop
Broom: Lethe_s
Candle Chandelier: Simaddict99 at TSR ($$$)
Cart:
Drawstring Pouch Deco: Billysims139 at MTS
Dueling Swords & Throwing Axes: Paladin at Sims Wardrobe
Fairgrounds Set: Brasstex at MTS
Forge & Servo Knight: Phaenoh at MTS
Furs as Floor Rugs: Midsimmer Night's Dream by the Magick Modders at MTS
Horse and Cart (Car): hexameter at MTS
Horses (decor): Dragon Slave at MTS
Ivy Hanging: Zelia Theb at MTS
Ivy on Wall: Zelia Theb at MTS
Lamp - Oil Burning: Dincer Hepguler
Keg for Wine Cellar: phervers at MTS
Knight Statue: Gromit at MTS
Map Wall Hanging: Dincer Hepguler
Maypole Radio: Retail Sims
Medieval Faigrounds Set (includes tents, outdoor shopping carts and more): brasstex at MTS
Medieval Planters: sgoobysnacks29 at InSIM
Medieval Planters, fountain: Marina Sims
Medieval Set (walls, cannon, gallows, flags, column, sword, well, and more!): UK1967 at MTS2 (Part 1) and UK1967 at MTS (Part 2)
Medieval Stocks (Decorative): DBCAB at MTS
Medieval/Peasant Style Produce Set: mistletoesquest at MTS
Maxis Match Medieval Set: SimsConnection
Maxis Match Medieval: Ailias at MTS
Open for Business Castle Shelves and Counters: Meshkiste with purple recolours at Blackys Sims 2 Zoo
Party Barrel (based on University beverage keg): jbeach34 at MTS
Portraits Paintings, Circa 1700 (several series) Galilea at TSR $$$
Recolours of OfB Knights: Meshkiste
Savonarola Chair: Avenida Sims
Serf Furnishings (Beds, doors, skin rugs): Midsimmer Night's Dream by the Magick Modders at MTS
Sim History Set (suits of armor, swords, helmet, shields): SimsConnection ($$$)
Skin Rugs: The Guild Masters at MTS
Skin Rugs: Simaddict99 at TSR ($$$)
Spinning Wheel: feeEssen at MTS, DragonArts at MTS
Tapestries - Horizontal: Simaddict99 at TSR ($$$)
Tapestries - Square: Simaddict99 at TSR ($$$)
Tent as Changing Booth: Blackys Sims 2 Zoo with recolours at Blackys Sims 2 Zoo
Thrones:
Torch for Wall: wintermuteai1 at MTS
Torches: The Mod Squad at MTS
Wall Shields: Midsimmer Night's Dream by the Magick Modders at MTS
Warrior Swords: John Brehaut at MTS
Waste Bucket: Lethe_s at MTS
Waste Bucket, Animated: Sophie-David at MTS
Water Pump: fleabay at MTS
Wood Recolors (phone, trash, mailbox, more): BillySims139 at MTS
Build Mode
Walls and Floors
Lots
Careers and other hacks