Game Help:Sims 3 Adventures/Local Intel
From SimsWiki
Local Intel
This is an adventure your sims can do in Egypt.
Adventure Details
In-Game Description
"That turquoise will keep operations moving along nicely. Sending you to assist me is the best thing MorcuCorp has done in weeks! I hope you stick around. I have some personal concerns about the reputation of MorcuCorp and I believe the local citizenry is growing hostile. I'd like you to get close to some of the other villagers and see what they think about this corporation."
Location
Any citizen of Al Simhara (besides the sim who gave you the adventure).
Difficulty
Easy - but can be a bit time consuming. For tips on completing a Social Interaction type adventure, see: Adventures:Social Interaction.
Reward
The reward for this adventure is:
10 Visa Points
10 Ancient Coins
Adventure Chain
Walkthrough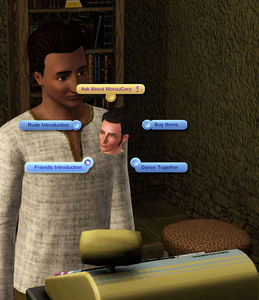 1.
Discuss MorcuCorp:
You will need to chat up three Egyptians - first gaining relationship score with them, and then selecting the "Ask About MorcuCorp" option.
The easiest way to do this is to go to the Al Simhara Market. The shopkeepers are usually fairly easy to find there, and by befriending this set of sims, you can reuse them in any future Social Interaction quests requiring you talk to random sims in Egypt.
Start with a friendly introduction, and then do a variety of friendly interactions. Build up the relationship some. You don't have to get to actual friends for this adventure, but it might be helpful (if you have time) as you can schmooze these sims again later for other adventures.
The locals will express their displeasure with MorcuCorp once asked. Repeat with three different Egyptians.


2. Report In: Return to the adventure giver to complete the adventure.
Related Pages