Game Help:Sims 3 Adventures/The Age of Copper
From SimsWiki
Icky Egyptian Entomology
This is an adventure your sims can do in Egypt.
Adventure Details
In-Game Description
"This is [Name], the local Relic Merchant. I find that my stores have drawn low and I need Copper with which to make imitation pieces. The tourists won't know the difference! Bring me 11 Copper and I will reward you with some Simoleons. Perhaps a bonus?"
Location
The quest giver (and thus their location) may vary. Generally it will be Ahmed Diab in a fresh copy of Egypt. The copper pieces you are expected to find can be found at various locations around Al Simhara.
Difficulty
Easy. Just check the map tags.
Reward
The reward for this adventure is:
15 Visa Points
383 Simoleons (may vary)
10 Ancient Coins
Adventure Chain
This adventure is a standalone adventure and not part of a chain.
Walkthrough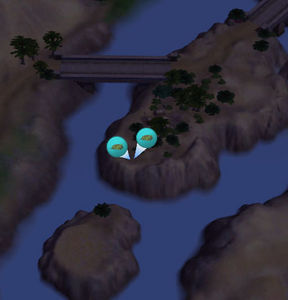 1.
Collect Copper:
Bring up map view (press M). You can locate where the copper pieces are by looking at the map tags. There's usually some clustered around the pyramids, and by the mines.
Note 1: If you do not see any map tags for copper, or not enough to complete the quest, just wait a while. It can take some time for ores to spawn, especially if it's a fresh copy of Egypt.
Note 2: The map tags do not disappear once you have collected all 11 copper pieces. You can continue collecting copper forever this way, as long as you don't complete the adventure.
Note 3: If you already have the required copper pieces in your inventory, you can just deliver the ones you have - no need to collect more (unless you want to).

2. Deliver Copper: Return to the sim named in the adventure description to complete the adventure.
Related Pages