Game Help:TS3 Load Issues
From SimsWiki
Issue & Symptoms
Launcher showing version 0.0.0.0 after patching
Launcher crashing when you click the Play button, but game loads anyway.
You get the following error messages when starting Launcher or game:

"Base Game not compatible with current Expansion Pack."
"The version of the game you are running is incompatible with the data. Please update your game."
"Sims3Launcher has encountered a problem and needs to close. We are sorry for the inconvenience."
"There was an error during startup. See the Log for more details."
"It looks like you have installed an unofficial game modification that does not match your current version of The Sims 3..."

You get the following error messages after choosing a Save game:

"A Serious error has occurred while loading <savename>.world. It is strongly recommended that you restart the Application."

Crashing at loading screen, with or without black screen flashes.
Crashing when entering Live Mode.
Crashing with "Sims 3 has stopped working" error dialog.
Crashing at any other time.
Lagging during loading - at initial load screen or after choosing a Save game.
Causes
Who knows?! Your guess is as good as mine.
Solution
Long loading times
Lag lag lag, due to incompatible/outdated/broken content (not just mods), things like Sims 2 stuff in Sims 3. Test with Game Help:Sims 3 Game Problem to confirm and then see following FAQs for further instructions.
Game Help:Package File Lag (click this for the Process Monitor guide)

If you get lags during gameplay with things getting frozen while animation or music plays, that's a different type of lag and is covered in the Game Help:Intermittent Freezes FAQ.

If the green loading bar stalls, either
at the start of game load (before Saves or New game option)

Then, it points to a patch failure or pack install failure. You need to reinstall the last pack or patch that you install before starting this game session. If just a reinstall of the pack didn't help, you may need to do an uninstallation first.
If it is just a patch, get the Superpatcher and update manually, or if you have downloaded it before and just re-running the executable still doesn't solve the stalling, redownload it again. And then run it again.

at the load after selecting a Save game. Get ErrorTrap from NRaas. Your Save may be corrupted.
at the load of a New game.
Crashing
You get this "The Sims 3 has stopped working" dialog error. Even after doing DEP tweaks. Like the DEP FAQ states - you need to do a system restart. If you had done any tweaking with DEP - removing, or adding - the TS3W executable file. You need to do them separately and reboot between each change or the tweaks won't be applied.
Work through the Crashing Checklist.
A Serious Error has occurred error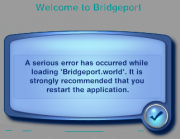 Getting the "A Serious Error has occurred" error message.
First, ensure that Documents/Electronics Arts/The Sims 3/ folder is not opened in Windows Explorer (on Windows) or Finder (on Macs) while you're loading the game.
With the game running, if you ALT+Tab (Option+Tab on Macs) out to Desktop, navigate to the Documents/Electronics Arts/The Sims 3/ folder, double-click on the CurrentGame.sims3 folder and you get an error, you need to delete this folder. This means that the game cannot open this folder either. Quit the game and delete this corrupt folder.
If the above "CurrentGame.sims3" folder is not empty, empty it out.

Copy the "CurrentGame.sims3" folder to your "Saves" folder and renamed it "BuggedSaveGame.sims3" or something
Then back in the original "CurrentGame.sims3" folder, select all files and delete.
You can then test if the "BuggedSaveGame.sims3" Save can be loaded from the Select a Game screen.
If you can, then do a SaveAs and name it under a different Save.
If not, you can just delete this "BuggedSaveGame.sims3" folder or continue on to the next suggestions.

You can try to restore from a Backup save.
If no Saves to restore from, you can try this "meta.data trick":

Create a New game based on the world this is happening in.
Save it (with a different name than the "Serious Error" one), and Quit Sims 3.
Copy the meta.data file from this newly created save to the "Serious Error" one or the "BuggedSaveGame.sims3" one, and replace it.
Game Help:Sims 3 Delete Cache Files, exception logs, version.tag, etc that would be regenerated on each game load.
Load the game to test with the "Serious Error" or "BuggedSaveGame.sims3" save.

If the above still does not solve it, try further suggestions in Game Help:A Serious Error Has Occurred FAQ.
The Sims 3 Base Game is incompatible error
See the Game Help:Patch Table for the patch versions in each release that must match, at the very least for base game and the last-installed pack, as per EA's claims.
This guide shows how to find your GameVersion.
Then, patch manually.
There was an error during startup error
You're still using Launcher to start the game? Does that mean bypassing the Launcher does not help?
Any other issues not solved by the above may mean Launcher is not able to communicate with Origins. Most likely cause is outdated Origins (aka EADM), see Game Help:TS3 EADM Issues.
If Origins is current, then if this happens after patching or installing a new pack, the process may have been
interrupted or
is not completed successfully for some reason or
completes but is corrupt, then,
you need to Game Help:TS3 Uninstall and this time patch manually (it is safer and has higher success rate) Game Help:TS3 Patching.
Unofficial Game Modification Error