Body Shop
From SimsWiki
What is Body Shop?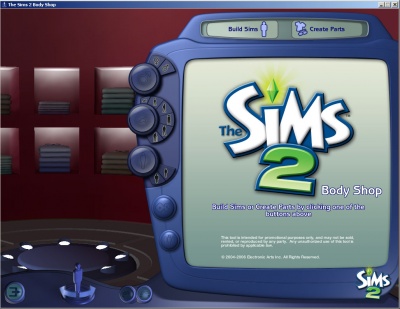 The Sims 2 Body Shop is a program created by Maxis that allows users to create new textures for sim-related content like skintones, hair, clothing, makeup, eyes, etc.
Where to Get Body Shop
Body Shop installs with the game itself - if you have the game installed, you have Body Shop.
If you have expansions installed, you should use the Body Shop shortcut from the latest installed expansion to run Body Shop. For example, if the latest expansion you have is Pets, you should use the "Start - Programs - EA Games - The Sims 2 - The Sims 2 Pets - The Sims 2 Body Shop" shortcut to start Body Shop.
To get any patches that may be available for Body Shop, check out the EA Games site for the most current updates.
http://thesims2.ea.com/help/?pid=Help_tutorials
How to Use Body Shop
You can find extensive tutorials on all aspects of Body Shop recolouring at Tutorials: Body Shop Recolouring Tutorials.
The Pets Expansion and Body Shop
Despite having no additional functionality added, Body Shop was updated in two ways for the Pets expansion.
Incompatible Creations
The version of Body Shop that installs along with the Pets expansion contains certain flaws that cause most of the content made with Pets Body Shop to work incorrectly for users without Pets. Items will show up as naked full body sim thumbnails regardless of type, and will not work properly.
Maxis has released a patch which fixes this problem, making it so any further items created in Body Shop will be fixed. You can get the patch here: http://thesims2.ea.com/help/index.php?pid=Help
Patching Pets will only fix new files created after the patching. Files created by a Pets user before installing the patch will still be broken for non-Pets users. They can be fixed in SimPE using this method: http://www.modthesims2.com/showthread.php?p=1466927
There is a script, in the R programming language, can detect package files that have been created incorrectly due to the Pets Body Shop bug. For more information, see: Detect Pets Body Shop Bug Source Code.
Obsolete? Numenor at MTS2 has created the BaseGameStarter PRO - Game Modification that allows you to test your creation in a specific EP or in all games up to a certain EP. It also features a "Legacy" Body Shop that creators with Pets can use to create items that are compatible with previous EPs/the base game, even with Pets installed. It may be found here: http://www.modthesims2.com/showthread.php?t=107015
Packaging Meshes
Pets Body Shop also packages custom meshes for any custom clothing or hair a sim may be wearing when it packs a sim. This has not been corrected with the Body Shop patch. You can find instructions on removing the included meshes here: http://www.modthesims2.com/article.php?t=202512
Body Shop Issues
See: Game Help:Body Shop
Related Links