Difference between revisions of "MTS2:Creator Guidelines/Sims 3 Lots and Houses/Sandbox"
From SimsWiki
Line 67:
Line 67:
 

|-

 

|-

 

|style="color:#000"|

 

|style="color:#000"|

−

The screenshots you take will show off the lot you have made and allow people to see what they're downloading. Take some nice big (800+ pixels-ish on the smallest side is a good size to aim for), clear pictures to entice downloaders into using your lovely new creation.

+

The people see downloading . (a aim for ) , to your .  

 
 
−

Do not apply filters like sharpen, contrast, etc. to the required pictures, as downloaders want to see what your creation will look like in their game, not your skills at using Photoshop.

+

to at

 
 
−

You will need to include at least:

+
−

* Pic requirements here

+
 
+

 

 
+

You to include:

 
+

 

 
+
 
+
 

|}

 

|}

 
 
---
Revision as of 12:00, 20 October 2013
Guidelines for Sims 3 Lots
I really will write a better introduction later honest...
Creating your Lot
Quality
Does your lot look nice? Does it have a good flow to it? Is the way it's laid out attractive, interesting, and enjoyable to look at?
Realism: Does your lot look like what it's supposed to look like? Not all lots have to be realistic, and fanciful ones certainly shouldn't look like your everyday house, but if your lot is based on a real building or real type of building, it should look like what it's supposed to look like.
For example, a castle should not just be a huge building with stone walls, but should look like an actual castle, and supermarket should look like an actual supermarket. You can look up pictures of the type of lot you're trying to build on Google Image Search for some good ideas.
Playability: The layout of the lot should make sense and be routable. Make sure sims have enough room to move around the house, and that they can access all items that can be used.
Roofing: The roof pieces should connect each other nicely, and not leave gaps between each other.
Landscaping: ?
Tip: Using Create a style-tool in TS3 can have a tremendous effect on how your lot will look. Please explore the possibilities of this tool. Selecting the patterns and colors yourself instead of using EA-made presets creates much more unique, and often better looking results.
A small tutorial here.

Uploading your Lot
Packaging your Lot
Once you have finished building your lot in the game, you will need to save it and then Edit Town to return to the neighborhood. From there select your lot and click the Share button on the lot panel.
Enter the lot name and description on the next screen, and then click the checkmark. When it's done, you'll have a new .sims3pack file on your computer.

Lots are saved to the Exports folder, which is located in My Documents\Electronic Arts\The Sims 3\Exports
Packaging Lots with no custom content
Installed sims3packs will package with your lot but package files do not do this. Some creators do not allow inclusion of cc in lots so you need to remove it when packaging.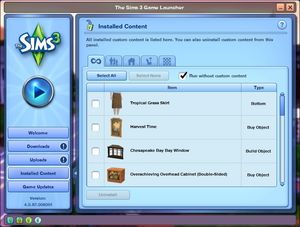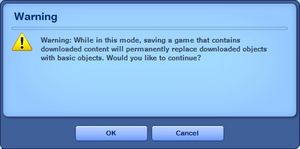 Start Launcher
Tick box "Run without custom content"
Take note of the warning. You are just going to the neighborhood to package the lot - you do not want to enter the lot.
Select the lot
Click Share in Lot panel
Compressing your file
To upload your file(s) to MTS, you will need to compress them into an archive file, which makes them smaller and allows you to include many files in one download. The archive file formats we currently accept are .zip, .rar, and .7z.
For instructions on compressing your files into an archive, please see: Creator Guidelines: Creating Archive Files.
Screenshots
The only way people can see your lot before downloading and checking it out in game is from the screenshots you take for your upload. Taking clear, large screenshots (as a rough guide you should aim for at least 800 pixels) will encourage people to look at and download your lot. Please don't use filters, we want to see what your lot will look like, not how good you are at photoshopping.
You'll need to include at least:
Floorplans of every floor of the lot A front and back shot of the exterior
You may want to include:
Unobstructed views if your lot has dense foliage blocking the view of the house Comparison pictures if you lot is based on a real buliding
Title and description
It's important that you include certain information so that players know what to expect when they use your creation!
The following information should be in the text description for your upload.
Title
You probably already have a name for your lot - it makes a good title for your upload.
Description
You need to write a decent description for your upload. You don't have to write a novel here, just at least a few sentences about your lot. It's nice to let people know you've put some careful thought into your creation. If your English is not good, you can ask for help writing a description in Creator Feedback.
Please include the following information in your description:
Lot size: Mark the lot's size, for example 20x30
Lot price: Mark both unfurnished, and furnished price
Included custom content: List custom content that has been included within the lot file or the archive, with links
Required custom content: List custom content you have used on the lot, but not included within the lot file or the archive, with links
More info about custom content, how to tell what gets included or not, what kind of CC is allowed and what isn't, below.
Game version and required EPs/SPs
In TS3 lots can be installed regardless of the expansions (EPs) or stuff packs (SPs) it was built with, as long as the downloader has the same patch version or greater. EP/SP specific content will just leave empty spaces. If you've used a considerable amount of content from an EP/SP you must list it as being required. Please list the base game version that the lot was built with. Finding Game Version
If you would like to create lots which require only the expansion packs actually needed for the features you build you can use johna's AnyGameStarter.
Additional Stuff
If your upload is rejected or marked as changes required and you're not sure why, ask in Creator Issues.
If you're not sure whether your lots are ready for uploading, use the Creator Feedback Forum to get feedback on it.