Game Help:Sims 3 Adventures/Digging Deeper
From SimsWiki
Local Intel
This is an adventure your sims can do in Egypt.
Adventure Details
In-Game Description
"Your effort in this endeavor is to be commended, but perhaps we can put it to better use. MorcuCorp believes [Name] may have information on these relics they are looking for. [Name] knows about some sort of old book that may contain precious information that we need. Go get this information."
Location
The sim named in the adventure text. Click on the "Ask About Ancient Book" button in the Adventure Tracker, or look for the yellow map tag in Map View (press M) to find them.
Difficulty
Easy. For tips on completing a Social Interaction type adventure, see: Adventures:Social Interaction.
Reward
The reward for this adventure is:
Nothing. It merely leads to the next adventure in the chain.
Adventure Chain
Walkthrough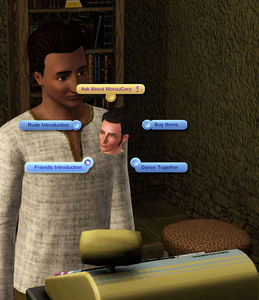 1.
Ask About Ancient Book:
You will need to chat up the named sim - first gaining relationship score with them, and then selecting the "Ask About Ancient Book" option.
Start with a friendly introduction, and then do a variety of friendly interactions. Build up the relationship some. You don't have to get to actual friends for this adventure, but it might be helpful (if you have time) as you can schmooze these sims again later for other adventures.
The locals will express their displeasure with MorcuCorp once asked. Repeat with three different Egyptians.


2. Report In: Return to the adventure giver to complete the adventure.
Related Pages